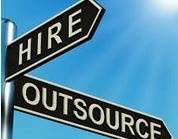 As digital disruption engulfs many industrial marketing departments, they struggle with…what to do?
"Should we go in house or outsource our content and digital marketing"?
There is no easy answer. In fact, the whole content and digital marketing onslaught is happening so fast I'm not sure anyone has the right answer. The successful marketers are finding their own successful formulas with a hybrid approach.
One thing I do know, all industrial marketers need to get started with a digital, industrial marketing strategy to find their own way.
For virtually every industrial client I work with, all will need to outsource much of their digital marketing to maintain online relevance. They simply do not have the in house skills to mount a successful online branding & lead generation effort. Frankly, most still do not even know the right questions to ask or the right people to hire.
I recommend a hybrid approach to content and digital marketing success.